When it's time to put your computer system to work managing your firm—

Managing Director is the right Business Management Software for Service Professionals and Service Businesses.
Managing Director stores the data critical to the daily operation of a professional services firm or service business within a single comprehensive management application. The organizational structure of Managing Director is designed to adequately and efficiently describe the complexities of the world our firms operate in. This design avoids complexity not necessary to accomplish required data management, yet provides adequate and accessible power when needed.
To provide structure and organization to the broad scope of Managing Director, related features and functions are organized into intuitive groupings.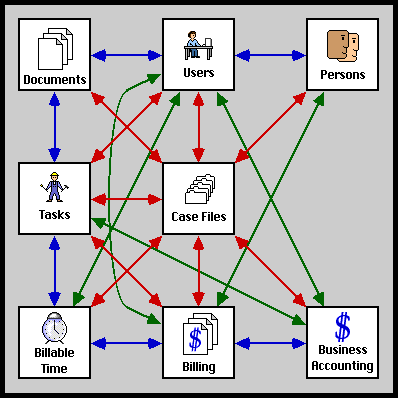 These groupings are integral parts of Managing Director, and are referred to as Main Feature Sets. These are not separate components or modules, but are logical distinctions within the single application that is Managing Director. The organization of the data stored in Managing Director may be conceptualized as a seamless web of logical interrelationships linking related data. This illustration is a simplified iconic representation of this web of interrelationships. This organizational structure allows users to move freely between the many different types of information stored within Managing Director.
If you would like to learn more about Managing Director, the Managing Director Brochure lists features, system requirements, and licensing information. The Managing Director Short Reference offers much more detailed information and numerous screen images. Demonstration Licenses are also available so that Managing Director can be fully evaluated prior to ordering a full license.
---